Talking Words Page. Simply click the words or press the numbers 1 to 8 and hear each word pronounced. Each word is recorded with different people and different intonations to give the kids lots of English exposure.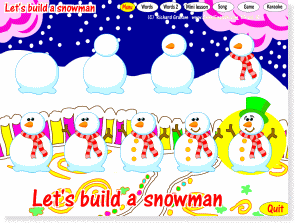 Talking Picture Cards: Here you have all 8 of the vocab words on screen at once. You can still move over them to hear them pronounced, and it is a life saver for classroom games. Plus if you use a projector in class, you won't have to carry around all the heavy picture cards!




Learn the song with the illustrated "Mini Lesson", the teacher becomes the "director", the kids become the center stage stars! Perfect if you're no good at singing yourself.





Then the song complete with lyrics and illustrations! A fantastic way to liven up the lesson and get the words stuck in your head. And a great way for kids to practice even when you're not there.





All the themes also have funky games get the kids to race against each other! You could even use the games to "pre-teach" the new language to save more time for real practise with each other.



And to finish off you have the Karaoke Versions!

The music tracks will work fine on any CD or MP3 player, and Windows 7, XP, Vista or Mac OSX is recommended for the software section. It should work fine on older machines, maybe just a little slower.
If your machine can handle the phonics quizzes on this site, then you should be OK!







---
Readers' Comments
Another fantastic CD, Richard. My kids are going to love it! My personal favorites are the scary Halloween song, and What Colour Is Christmas? Thank you VERY MUCH from me and my classes! - Cathy


---
Richard this is a FANTASTIC CD!! It's so bright, colorful and cheery. I just adore the graphics. I think the gingerbread house is really great graphics wise, of course I love them all! Really super good job Richard! Bravo!! (cheers and applause) - Carol
---
This is such a great vol. I like the background music during the games. The graphics are amazing. The games are all so different and enjoyable. "Get Well Soon" and "Happy New Year" are both short but really catchy and contain such valuable content. "Trick or treat" looks so good with all the black!! Thank You Richard for yet another amazing creation. Great!! - Flossy
---

Wow, I love it. I especially like "Trick or Treat" and I am going to use it in my upcoming classes - Kristin

---

Thank you for making another great CD, Richard!! - Yumiko

---

Wow, it's like an early Christmas present! All the songs are very colourful and really exciting. Thank you very much Richard. Happy Halloween!!! - Dan

---
First of all thank you. You really outdone yourself again. The graphics and voice-overs are all brilliant.
Well done Richard! - Stanton -
---
Great CD! It is a wonderful sample of your materials without having to buy the whole set. The videos are always a plus but I really like the ones on this CD. They tell a story which is much easier to do via video than flashcards. - Gumby
---
Man, this is just so beautiful, or better to say magic.I must admit, I didn't really like the "What color is Christmas" song in the testing, but watching this, it almost makes me cry. I agree with gumby, this will be a CD also for people who don't study English. You should make a market at some Christmas market in Germany. I think you could sell lots.Baby Monkey just fits in so perfectly. I love it. I was wondering how you would design the "Get well soon" song. It is super cute. - Margit
---
One word... fantastic!

- Kobe Kid
---