! ESL EFL English site for elementary school kids, with free MP3 songs, games and teacher training >
Page in Japanese

Eat! Drink! Dance!
Target Language: basic verbs, imperatives, making other grammar easier!
Target Grade: All ages
This song is in the Teacher's Set
And in the new curriculum
Level.


Click the pictures, hear them talk!
Owners Club
Bonus Materials...

A4 Flashcards
(What's this?)



Mini Cards
(What's this?)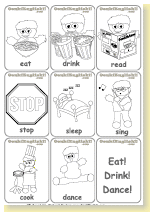 Printable
Lesson Plan
(What's this?)




Dice Game
(What's this?)



Spaghetti Game
(What's this?)



Islands Game
(What's this?)




Snakes & Ladders
(What's this?)




Owners Club Members can click on the pictures above to print them out
Genki Warm Up 2:
Eat, Drink, Dance
=================
by Richard Graham


Are you ready?

Stand up
Sit down
Stand up
And dance!

Eat
Eat
Drink
Drink
Read
Read
Stop!

5 4 3 2 1

Dance!

Sleep
Sleep
Sing
Sing
Cook
Cook
Stop!

5 4 3 2 1

Dance!

How to teach ....
This song is very simple, you say a command at the kids whilst doing the action, they repeat and do the action back to you.

At the "stop" command everyone, teacher included, freezes until the countdown has finished!

The main language aim isn't the song in itself, but as an easy way to lead into the "What do you want to do?" and "What are you doing?" songs.

Using this song first makes it really easy and means you don't need as many grammar explanations. Plus if you use the Genki Disco Warm Up before this song it's even easier still!

Here's a video I did in Japanese with English subtitles that goes into more detail:



Recommended Games

There are lots of games you can use with this theme. Simple charades or guessing games are always popular. Or take a timer into class, you give commands to the kids for 30 seconds, then they have 30 seconds to give you commands. Keep taking it in turns.

Eat! Drink! Dance! Freeze! Game

1. Put the students in pairs. (I usually have them sat side by side, not in rows like here!)

2. One student says a command to the other student. They both have to do the action and say the word.

3. Repeat back and forth.

4. But if one person says "stop!" the opponent has to freeze until you have counted down to zero! If they move during this time you get one point! (I usually get them to be really, really strict, one slight curl of a smile and out! They were too kind here! :) )

5. Repeat from step 2.



Any words that you have previously done are also great to add, e,g. we'd previously done Left & Right and Superhero so could do "fly", "climb", "spin", "sit down" etc.

You can also let the kids choose how long to count down for!

Drink! I'm drinking!

The nice thing with this is that you can run it into the What are you doing? song for I'm eating, I'm reading etc.

This time if someone says "Eat!" to you whilst you are already eating, you have to answer "I'm eating!" etc.

This gets pretty complicated, but a great way to learn the present continuous!

You can also try out a simplified version of the Harry Potter Game using this song.


Simple Present Tense Game

You can also use these verb mini cards along with the pronoun mini cards to teach kids the simple present tense e.g. when you have to put an "s" after the verb. Just put the cards in two piles, the kids pick one pronoun and one verb card and say the sentence, deciding if they need to add the "s" or not. You can also add in the Superhero cards to make it more fun!

Evaluation Worksheet (What's this?)

---
Readers' Comments
This one has already proved to be a massive hit with all my 3rd graders! - Julian-K


---
I teach in a children's village. This song has really caught on, especially during the countdown. We hold up one hand and count down with the song, then all spring to life on 'dance'! Such fun!
- Kerry
---
Sign up to get my top tips, games & hints via email!



Copyright (C) 1999/2023 by Richard Graham www.GenkiEnglish.com