How to get Awesome
Japanese really quickly.




Sometimes found Japanese hard or difficult to learn?

Ever been put off by unnatural Japanese in textbooks?

Ever found yourself falling asleep in language class?

Would you like a fun, exciting way to learn Japanese?

Well my name is Richard and here is your stress free way to learn Japanese!


| | | | | |
| --- | --- | --- | --- | --- |
| | | | | |
| Me on NHK TV | | Koyuki San on FUJI TV | | Me at TEDx in Japan |

Besides being fluent in Japanese, my teaching materials have been featured on Japan's NHK TV ("Creating a sensation " they said), Fuji TV (where "The Last Samurai" star Koyuki was singing my songs!) and many Japanese newspapers including the Daily Yomiuri & Japan Times ("learning is a riot" was what they said!)

Now it's your turn to get genki, energetic, enthused and full of life.

I've taken all the best ideas I used to get fluent in Japanese & made these unique songs to making learning easy & fun.

WARNING: DO NOT BUY THIS COURSE if you value your sanity,
these songs will stick with you all day!


You get an super short exclusive tutorial videos plus the famous Genki Japan Animations:
01. Cool Words and Omoshiroi!
02. Genki Japan Disco Warm Up
03. Where are you from?
04. Self Intros
05. Left and Right and Directions
06. Japanese Numbers
07. Months of the Year
08. How much and Japanese money
09. Colours
10. When? Where? How? Questions
11. Weather in Japanese
12. Counters and Samurai
13. How old are you?
14. The particle "no"
15. Days of the Week
16. Hiragana
17. Katakana

These specially designed songs distill the key Japanese you need into short, simple, snappy songs that drill into your brain, just like the most annoying hits on the radio!


Plus Buy Today & get
3 Incredible Bonus Offers:


+ Buy today and get my 3 FREE pdf eBooks:
"Easy to Learn Japanese: Posters eBooks: Anime Version"


.& NEW "Easy to Learn Japanese: Posters eBooks: Traditional"



print them out, put them on your wall &
impress your friends when they come over and
see you know Japanese!

& FREE 70 page Hiragana Workbook!
learn how to read & write the first full Japanese alphabet.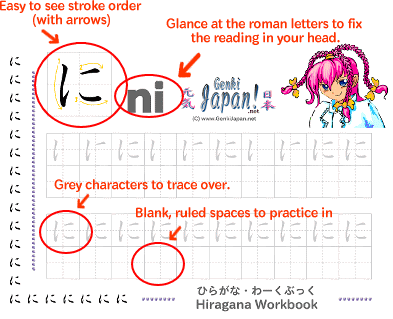 & FREE 70 page Katakana Workbook
learn how to read and write "katakana" symbols
you can use to read Japanese "loan words" & menus



And get my "Get Fluent" ebook free of charge!



Buy right now and you can be learning Japanese easily
in just a few minutes time!
all for only $149.99 $29 US


Payment Secured with Credit Card, Debit Card or Apple Pay



And just in case you want a little more proof of how amazing this is going to be for you, here are just a few of the comments I get all the time from Facebook & Youtube:



Harvard University have even tested and researched my teaching programmes, so you know you're learning from the best.


Plus New BONUS:


I've just included my secret hiragana A4 pdf posters, mini cards and worksheets. I know they're too "cutesy" but they're what we use with real kids in Japan, so just don't show them to anyone and you'll be cool - they're an extra free bonus!

Order your course + all the freebies pack now!


17 Key Japanese Songs + Exclusive Explanation Videos

Traditional & Anime pdf Posters for each Song

FREE 70 Page Katakana pdf Workbook

FREE 70 Page Hiragana pdf Workbook

"Get Fluent" tricks to learn Nihongo ebook

Bonus Hiragana pdf posters

Bonus Hiragana pdf minicards
Bonus Hiragana pdf worksheets
all for only $149.99 $29 US
You'd be crazy not to join us!


Payment Secured with Credit Card, Debit Card or Apple Pay


Go on , you deserve to be able to speak Japanese! Download Now!





Just some of the Japanese newspapers where my original high energy, genki teaching materials have been featured! Join us now!