To receive your own FREE monthly email newsletter, enter your email address below!
---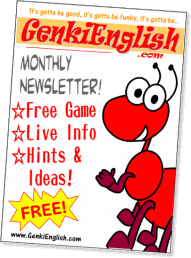 Contents:
1. New Picture Book
2. Game of the Month
3. English Tiger Board Games & Card Games
4. Team Taught Pizza
5. Winter Olympics Game
6. The Forum is Back
7. And Finally.....
Hello,
It's now February so Valentine's ideas are always good to spice up your lessons. This year we also have the Winter Olympics to brighten things up a bit ( remember to include "gold", "silver" & "bronze" if you are teaching colours), and lots of new ideas for you to try and keep warm in the Winter season!
1. "I love Vegetables" Picture Book ( with a Valentine's twist)
The
last picture book
proved really successful, so here's a new one - "
I love vegetables
" (
http://genkienglish.net/picturebookvegetables.htm )
The cool part of the book is, of course, the twist at the end. This time it fits in very nicely with the upcoming Valentine's Day. It's not going to work for all your kids, but for the ones who are into this type of thing it's bound to get a chorus of "ahhhh"s and make you a very popular teacher! It certainly has every time I've tried it out.
http://genkienglish.net/picturebookvegetables.htm
There are also separate International and U.S. printed versions which nicely gets over the zucchini / courgette and eggplant / aubergine problem.
I've also collated the various Valentine's Day games and things onto one "
What to do on Valentine's?
" (
http://genkienglish.net/valentinesday.htm
) page and there are a couple of new games on the
Readers Games' Page
(
http://genkienglish.net/games.htm#readersgames
)
2. Game of the Month: Comparatives Games
Lots of teachers have written in saying how they use the
Genki English card game
(
http://genkienglish.net/cardgame.htm
) cards to teach comparatives, and more importantly, how much the kids enjoy using them.
The basic idea is that you print out a set of cards for each group and the kids have to use them to make sentences
e.g. The duck is faster than the tortoise
The giraffe is taller than the butterfly
The rhino is heavier than the bird.
The reindeer is younger than the dragon.
etc. etc.
You can also make a game out of it by choosing one category e.g. "top speed" and the teams have to race to see who can make a sentence first, using the cards they have. But once they've used a card they can't use it in subsequent rounds!
Or you can give each kid two cards and see who is quickest to make a correct sentence from the data on the cards.
To be honest I much prefer to use the cards in their
original way
, to get the kids fluent at numbers, but if it helps make a usually boring grammar point a little more exciting, it's probably worthwhile trying out!
http://www.genkienglish.net/comparisons.htm
3. English Tiger Board Games & Card Games
If you are looking for board games or card games to spice up your lessons, then have a look at these games from
English Tiger
in Korea.
I did a workshop with them last year, and the games worked out really well. The "Bingo" has a nice twist on tricky to remember grammar, "Infinity" you can use in all sorts of different ways, and "Speed Limit" really gets you hooked.
Have a look here:
http://genkienglish.net/englishtiger.htm
4. For Junior High try the "Team Taught Pizza"
For those of you teaching larger groups in Junior or Senior high school, my recommendation would be the "Team Taught Pizza" handbook. It's a massive compilation of games and ideas, all fully bilingual to make lesson planning easier, written by ALTs for ALTs. You can find out more, and how to order on the site at:
http://genkienglish.net/ttp.htm
5. Ski Game for the Winter Olympics
It's the Winter Olympics again, and my favourite game was always the "Ski Game":
1. Draw a "ski track" on the board from right to left. Have several "markers" along the track (eight markers will last about 20 minutes), and a start and finish gate.
2. Have a cut out skier and a cut out snowboarder and place them (using magnets) on the start line.
3. Assign the kids to either ski or snowboard teams.
4. Say "ski team stand up". Just to make sure everyone remembers what team they're on!
5 Pass a ball whilst playing some music. Then stop the music to select a student. Ask them a question.
6. If they are correct the skier or snowboarder moves one space along the track towards the finish.
As usual the Japanese version is on the site if you need to explain it to the class teacher.
http://www.genkienglish.net/Skij.htm
One great suggestion that was sent in this month by reader Josh Katz, was instead of asking the kids a question, give them an answer and they have to give you the question! Josh has written more here:
http://genkienglish.net/thekidsaskyouquestions.htm
6. The forum is back!
Yes, by popular demand the Genki English forum is back!! This time it's inside the CD Owners' Club, so if you have any questions or need help or advice about your teaching, requests for new things on the site or would like downloads and previews of new songs....
.... welcome back to the
Genki English forum!
http://genkienglish.net/forum.htm
7. And Finally
There are also lots of updated worksheets and minicards around the site, and of course last month's "Make a face" is still there, and very popular!
Keep the requests coming and enjoy February.
Be genki,
Richard
======================
Richard J. Graham
Not tested on animals. Tested on kids.
Primary School English Games, Songs and Activities
http://www.GenkiEnglish.com
=====================




"Many fine things can be done in a day if you don't always make that day tomorrow"
-Anonymous







And if you like the ideas in this newsletter, please feel free to pass it along to your friends!
---
To receive your own FREE monthly email newsletter, enter your email address below!