To receive your own FREE monthly email newsletter, enter your email address below!
---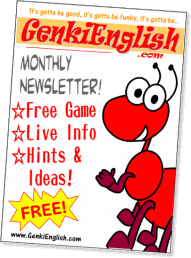 Contents:
1. Halloween Picture Book
2. Funky Mummy Game
3. New Halloween Flashcards
4. Mr Monkey's Magic Corner
5. And finally
Hello,
It's October and for a lot of teachers that means just one thing: Halloween. So this year let's try and add in some extra English to the ghouls and ghosts...
1. "Happy Halloween" Picture Book
Here's another very cute Genki English picture book for you. As with the other books there's an online animated version that you can tell your students about for homework and if you are a member of the CD Owners Club there's a very nice A4 ( or A3) printable version.
The target language is "Look, there's a ...." and "I'm scared" ( i.e. the language from CD6's "Happy Halloween" song ) and features a very nice twist at the end which provides a very nice relief from the sometimes (very) scary pictures.
The picture books can be a great way to end a 2nd hour of lessons based on Halloween, or as an extra source of English input for very young learners.
Have a look yourself at:
http://www.genkienglish.net/picturebookhalloween.htm
2. Funky Mummy Game
For some body parts practise, try this adaptation of the
Doctor, Doctor Game
by Josh Katz. You can use it with CD4's "
Doctor Doctor
" song and CD6's "
Make a Face
" song.
1. Make a stack of cards ( either
A4
or
Mini Cards
), each one with a body part.
2. Put the kids in pairs or groups and give each some toilet paper.
3. The kids
Rock, Paper, Scissors.
4. The loser picks a card from the pack. (S)he then tells the doctor ( the winner ) to fix this body part e.g. "
Doctor, Doctor, my ....hurts
"
5. The Doctor bandages this body part.
6. The fun part is you leave the bandage on. Then continue from step 3.
7. Continue until one person is a complete mummy.
Josh also has some ideas on increasing the complexity of the English at
http://www.genkienglish.net/funkymummy.htm
And Genki English reader Nigel has sent in his "Ask the Dragon" game.
http://www.genkienglish.net/askthedragon.htm
3. New Happy Halloween Picture Cards
Since the Genki English "Happy Halloween" song is now featured on the new CD vol. 6, there are some beautiful new updated flashcards for you. As usual there are A4 versions ( which you can enlarge using the printer settings on your computer - they look great at A3 size) and "mini cards" for playing games. The game is a Halloween version of the Harry Potter game.
http://www.genkienglish.net/halloweensong.htm

4. Mr Monkey's Magic Corner
To make it a full set, coming later in the week there is a very nice magic trick from Mr Monkey, it takes ages for the kids to figure out how it's done ( unless they are really good at maths, hint hint).
Plus there is Aygo's "Make a Jack o'lantern" animation which is also quite fun:
http://www.genkienglish.net/jackolantern.htm

5. And finally
There's been a great reaction to the new Halloween Picture Book over on the CD Owners Club forum, so I've also uploaded a few other "works in progress" picture books for you to try out. Pop along to the "Community & Discussion" board at
http://genkienglish.net/forum.htm
and see for yourself.
I've just got back from a trip to Taiwan and Hong Kong, and we've now widened our "Student Pack" discounts to schools over there, as well as Korea and China. If you are a school owner, get in touch and we'll sort out a very nice package for you. They are a great alternative to textbooks as the parents can actually hear how well their kids are doing.
http://www.genkienglish.net/studentpacks.htm
As usual keep checking back for more new ideas throughout the month and have a very Happy Halloween.
Be genki,
Richard
======================
Richard J. Graham
The Genki way to Teach.
Primary School English Games, Songs and Activities
http://www.GenkiEnglish.com
=====================


Q: What's a ghost's favourite food?
A: I scream ( ice cream)















And if you like the ideas in this newsletter, please feel free to pass it along to your friends!
---
To receive your own FREE monthly email newsletter, enter your email address below!