! ESL EFL English site for elementary school kids, with free MP3 songs, games and teacher training >
Richard's Diary!
Take any problem in the World and it's invariably caused ( or made worse) by a lack of education. Too many kids hate school because it's too boring. So the aim of Genki English is to have all subjects in all countries taught in a fun, engaging and effective way.

While I'm on the road you'll hear about my travels & workshops, and when I'm doing studio work I'll keep you up to date with ideas, updates to the site and some of my favourite teaching resources. So if you want to find out what's it's like behind the scenes or how & why I do what I do or even if you're just nosey or a bit bored, have a read!

There's also a normal blog version and please get in touch if you have any comments.

I'll update the diary as often as I can, so keep coming back. And of course whilst I'm away, the office staff in Japan are always ready to send off your CD orders just as soon as you send them in!



---
March 30th 2007 - Expert Author
I'm not exactly sure what it means, but I've just been given "Expert Author" status over at EzineArticles.com. A couple of things I've written are:

10 Essential Japanese Phrases You Need to Know
Sites Where I Can Learn Japanese
Make Money In Japan - Build Your Own School
What Is Phonics?
Free Foreign Languages With YouTube And Skype
Learn A Foreign Language - Read And Write Or Speak And Listen?

If you have a blog, website or newsletter they allow you to use the articles freely as long as the links at the end are included and "made live" ( i.e. if you click them they go where they should).




March 27th 2007 - Pera Pera Candy
We're all gearing up for the big launch of the new Genki English "Pera Pera Candy".

The thing is that last year we actually got orders... ah dear....

I also put up the all-English version of the Fairy Stories page for students outside Japan.



March 26th 2007 - Fairy Stories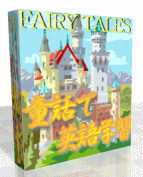 When it comes to reading, most Japanese adult learners are quite advanced. But everyone is always looking for new things to read that are just their level. Of course it also has to be something that's fun to read!

So I've just put up a new section on the Japanese version of the site with lots and lots of famous English stories such as Snow White, Cinderella, Jack & the Beanstalk and also a few Aesop's Fables. The funky part is that there's also a dictionary built into each page, you simple move over a word you don't know and an instant translation appears.

I'm amazed at how fast it let's Japanese learners whiz through the stories, it's almost as fast as I read them myself! So if you have any adult students, tell them about the 童話で英語学習 page, they'll love you for it!




March 23rd 2007 - Re-coding
As you may have noticed I've been re-coding the website this week. If there are parts you like or dislike then please let me know as I hope to continue to make it easier to find your way around!


March 21st - Under, on, in Game
Roger has sent in some nice games for the Under, on, in song, but I've just found a real killer one! This comes courtesy of Nigel in Fukuoka. It uses lots of animals and works with either small or large classes.

It's especially useful for "in front of" and "behind" which many non-native teachers have great difficulty with. No need to worry though, this game will sort it out in a very fun and very addictive way!

The Under, on, in Game



March 19th 2007 - Genki On NHK News Today "English Baby Sitters"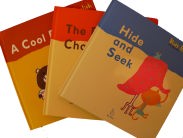 I'm not sure if you caught the NHK News this morning, but they were doing a report on the boom in English Baby Sitters. Instead of your average Japanese speaking baby sitters, the boom now is to have a sort of mini-nanny who plays with the kids in English whilst the parents are out enjoying themselves. And what teaching stuff did they use in the programme today? My "Big Chocolate Cake" book from the Kids English series!

NHK is the Japanese equivalent of the BBC so it looks like I'm going to have a very busy day today...





March 14th 2007 - White Day
Today is White Day in Japan. Which basically means guys have to give chocolates to all the girls who gave them chocolates on Valentine's Day. It's sort of the opposite of how things work in the west.

Today I saw a sign outside a shop proudly displaying that they were the creators of this wonderful cultural day starting in 1978.

It is a fantastic ploy, isn't it? Make a whole day where everyone has to buy your products.

I'm thinking we should make Genki Day sometime in June.





March 11th 2007 - Easter Chocolate Monster
I've just been back in Ehime working on some new video projects, hence the lack of posts in a very busy week!

Last night I flew into Fukuoka and popped into the ACET meeting today. They had some great ideas and throughout the week I'll be putting up some of Craig Kingsley's super easy drama ideas on the blog. Drama can be a tough subject (I really know nothing about it myself), but Craig showed some great little ideas that should fit right into your lessons.

We're also talking about maybe having a 3 hour Genki English workshop in Fukuoka on the 9th of September. I'll keep you up to date when we work things out.

For today I presented the Easter Picture Book and a modified version of the Disaster game. This time the disaster I chose was a "Chocolate Monster". So, after doing the song and reading the book you...


1. Put post it notes on the back of the picture book cards. Most have numbers, e.g. 5,10,20.25 but two of them have "Disaster" written on them.


2. Put the cards up on the board so the kids can read the story, but not see what's on the post-it.
3. Spilt the kids into groups. e.g. today we had the Beautiful People vs. the Gorgeous People.
4. The first person from each team reads one of the cards e.g. "Look in the bath. Is it in the bath?". ( If you've done the song first this is easy enough).
5. You look on the back to see if the Chocolate Monster is there.
6. If there's a number you say "No! It's not there. But there are some Easter eggs".
7. You show the post-it note to the child and ask "How many Easter eggs are there?"
8. If the child answers correctly they get that many Easter eggs (points) for their team.
9. But... if the disaster post-it appears it means the Chocolate Monster is there and has eaten all their eggs and that team's score goes back to zero!
10. Continue till all the cards have gone.

It works a treat and fills out a very nice lesson with the song, picture book and game.




March 6th 2007 - How you doing? Hip Hop game
Here's another online Hip Hop Quiz for you "How you doing?".

I always thought this song was really, really fast, and as it was originally written to listen to rather than sing I figured the game version would be way too difficult for your average learner.

I don't know what it is though, but as soon as you put the keeping score element in there all the students suddenly sit up straight in their chairs. Even with this theme which is mostly text based answers, as long as I changed the size of the script so the keyword is emphasised it's amazing how well people do. Most people even do better than I did on my first try and I wrote the song!

Have a try with your adult students, you'll be amazed!.




March 4th 2007 - What's in the cards?
Over on the forum I've just put up some examples of the new picture cards for rooms of the house and for the soccer theme. As they're still in development I can try and add in any changes that you'd like making. It's a great chance to have a pro artist create just the cards you need!

One tricky thing is trying to decide on the colour of the Genki English football kit...




March 3rd 2007 - Hip Hop Videos
In my quest to try and make the website easy to use for students as well as teachers, I've just uploaded a series of videos to go along with the Hip Hop Quizzes. They're basically the same as the Japanese version of the podcast, but video makes it (hopefully!) look a lot better.

There isn't too much English in there, the main aim is to get across the "Dekiru, Dekiru, Dekiru!" ( I can do it!) and "Try again!" Genki English rules. Hopefully they'll help out a bit especially for high school or university students.

Have a try with the I have to ... I can video.




March 2nd 2007 - Easter Picture Book
It's been a while, so here's a new picture book for you. This time it's the "Easter Egg Hunt". As usual there's a very nice punchline at the end and your students can read the online version from the "For students" link at the top of the page.

There's also a downloadable printable version for CD Owners Club members. Thank you for your support!

The trick with this book is to introduce the English using the first 7 picture cards first ( don't show the last one just yet), then to sing the song. The kids of course all laugh at the end of the song. Then when you read the picture book, get them to guess what the final page will be.

It's great to bring out lots of English from the kids and they hardly ever guess correctly. You can also get them to guess in their native language, just as long as they say "How do you say .... in English?". Can you guess what it might be?




March 1st 2007 - Real Menu Game
Following on from yesterday's menu, and the menu game worksheets in the food & drinks themes, here's a new twist.

1. Put the kids in groups
2. Give them all a copy of the same food menu.
3. Tell them a total price you want to pay.
4. In the groups they have to come up with what food you can buy for that price.
5. After a few minutes each group reads out what they recommend.
6. Either give them points for the most delicious choices or for getting nearest to the budget without going over.
7. Repeat with a new budget. ( Pretend you've just found some more money in your pocket!)

This way the kids don't just listen to the food names, they have to say them. If you like you can bring in this week's "How many?" theme as well, e.g. the kids say "A 150g steak" and you say "How many?", "Just one!" is the answer they'll usually need. You can also make the rule that any group that uses non-English when discussing what to recommended loses a dollar from their budget. Just be careful there is nothing on the menu for a dollar as the clever kids will say "23 bread rolls" or whatever.



The key here is to use fun menus like the Genki English ones for non-literate students, or for kids that have done phonics then real menus certainly bring things alive. They don't need to be able to read everything, just enough to do the game. And where to find these funky real menus? Google of course! But... the trick is not to do a normal google search, but to do a google image search. If you add in "lunch menu", "breakfast menu" etc. you can get even more.





February 28th 2007 - Senior High Complete
Today you have the completion of Jeff's High School Curriculum & Worksheets. The new items are the remainder of the fall term and the Winter term ( which is already over in many high schools!). If you're in senior high be sure to take a look and tell any friends about the page, and even if you don't teach there it's nice to have a read through and get some different perspective of games and ideas and things.

From next term this should prove a great resource for new ALTs and if anyone else has any high school or junior high school materials, please send them in, they are always very much in demand!

The game of the day is Jeff's Menu game from the food theme in the fall term. ( You need to scroll down the page a bit!). Suitable for either junior or senior high. Thanks Jeff!




February 27th 2007 - How many? games
To go with yesterday's "How many ... do you have?" song, today we have the "How many?" game. The nice thing about this game is you can use it to review any set of vocab or classroom objects such as pens, pencils etc.

You also can try the mingle game, have the kids sing the song and dance in a circle with the mp3, "How many ... do you have?", 1-12 etc. then you stop the music and say a number. The kids have to get into groups of that number and sit down as fast as they can!




February 26th 2007 - The Oscar for best song goes to .... How many?
To celebrate the Academy Awards this evening we interrupt our "Game a Day" series to present you with the all singing, all dancing "How many ... do you have?" song!

It's a lot more "cutesy" than the normal Genki Songs, so it's up here as a free bonus download for you. It should work great with younger kids, and the music is perfect for this week. But be warned, once you press the "song demo" button, you will have it running through your head all day!

Enjoy!



February 25th 2007 - Barbarians & Romans
Here we have another game sent in by Nigel, it's another epic battle game called "9 lives - Barbarians & Romans", should be lots of fun!

If you're a user of the del.icio.us bookmarking site, you'll also find links at the bottom of each page on the site so you can remember which ideas you like the best.

And I've also remixed the top left menu which should make it easier for you to use, and for your students to find their games and things more easily. Enjoy!



February 24th 2007 - Disaster Game
I've had to change the name of today's game, sent in by Rick, to "The Disaster Game" ( you'll see why in the instructions), and it's a really good game. Of course don't even think about using it if you think it will upset your kids!

I've also added in a load of new Genki Japan games including months of the year, seafood, action words, adjectives, Doctor Doctor and a guide to self introductions. It's giving a lot of teachers a new viewpoint on how their kids learn, so if you haven't already, have a try!




February 23rd 2007 - Number Golf
Yesterday we had a higher level activity, so for today here's a really simple idea for practising numbers either 1 to 20, or up to the tens of thousands. Enjoy Emily's Number Golf.




February 22nd 2007 - Junior High Idea
From today I'm starting a new "Game a Day" series. Today's is a very nice idea from reader Sara Wolsey called "Around the World Trip". It's great for practising past or future tense.

Enjoy and check back tomorrow for another game!




February 21st 2007 - More Japanese Games
They decided to start ripping up the road right next to where I was supposed to be recording yesterday. So I took the chance to flee to a coffee shop and get cracking on my email mountain that has been building up whilst I've been working on the new songs.

I also added in a couple of new online games for the Genki Japan site, one for country names and one for telling the time. All very simple, but if you know anyone who's arriving in Japan soon, it's a great way to pick up a bit of nihongo.




February 20th 2007 - B5 cards for every theme!
I've just had another request on the forum for B5/A5 versions of the picture cards.

The good news is that if you use the "pdf" versions of the picture card files, the latest version of the Adobe Acrobat Reader let's you select exactly how many pictures you want per A4 page: 2, 4, 9, 16 or any combination!

You can find the pdf versions of the picture cards on the Wishlist Forum. These files are very, very big, and I don't publicise them too much as I get complaints when they crash old computers!

But have a try and see how you go.

February 19th 2007 - Any Brothers Sisters & Animals 2
Thanks to everyone for the great response to testing some of the new songs ( see the last post).

I've just put another two onto the test page, "Do you have any brothers and sisters?" ( to solve the "How many members in your family?" problem), and "I like animals 2" which goes with the animals 2 picture cards and should hopefully solve the "I like rhino(s)" problem! You can find the lyrics on the Wishlist section of the forum.

All feedback is welcome, especially how you find them in use in class and also if there's anything that's disastrously wrong with them before they get committed to CD! Plus there's a free CD for everyone who helps out.



February 16th 2007 - Free demo songs for you to try
I've been working on a set of new songs, and two of them are ready to start real life field testing. If you're a CD Owners Club member and you'd like to have a listen and try them in class yourself, email me and I'll send you the link. As usual there'll be a free copy of the next CD to anyone who gives any constructive criticism ( or praise of course!).

The two songs are a TPR style warm up and "Where is Baby Monkey?" which features rooms of the house. You can find the lyrics on the Wishlist section of the forum.






February 15th 2007 - Success Secrets this time in English
The Japanese version of my "Success Secrets of Learning English" has been generating fantastic emails from students who've found it has really boosted their confidence.

Of course you're not likely to recommend it to your students unless you know what's in it, so I've now uploaded an English version. It does sometimes read like a "get rich quick" scheme, but once you read through it, the style really works in getting students to want to pick up those English books or tapes. It should make a huge difference to your lessons!

Success Secrets of Learning English ( in English) - in Japanese





February 13th 2007 - Dunkin' Donuts
Seth Godin has a great post today with a picture of a huge Dunkin' Donuts guide to ordering a coffee.

It would be perfect to use in an English class; real, easy & useful English, big simple design, plus a nice bit of culture in that in America you can't just ask for a simple "coffee" when you order.

The only problem? A big typing error right in the middle!

But then again it might make the lesson even better, to show your students that even big huge English speaking companies also make mistakes sometimes.



February 11th 2007 - When, When, When
Combining a game directly into a song is a really fun way to involve both music and an adrenaline rush. Here's an excellent idea from reader Brad M:

I gave this variation of the weather Clap! Clap! Game a try today and the students loved it!

Great for review...seems to work especially well for reviewing the When, when, when? time expressions...

1. Go through this year, next year, last year lesson,
2. In each chorus of the song, in the final (the 6th) "when" have the students do one of the 3 gestures as suggested by Richard in the When, when, when? page (e.g. either jump with arms raised for "this year", jump with arms forward for "next year", or jump with thumbs pointing behind you while singing "last year".)
3. If the students do the same gesture as the teacher they are out.
4. You can continue on with the remaining students for ...month, week, today, tomorrow, and yesterday and the corresponding gestures.

Good luck and enjoy!





February 8th 2007 - Mingle Walking
The simplest things are always best, and here's a genius idea from one of our Swedish readers.

Instead of using "Mingle" in the mingle game, which isn't the most useful piece of English in the world, simply change the chant to:

Walking walking walking walking (The kids are walking around)

Jumping jumping jumping jumping (The kids are jumping)

Running running running running (guess..)

Then STOP!

Simple and brilliant, just the sort of idea I like to hear! Thanks.
February 7th 2007 - Rand, Rupees and Krona
I'm just about to catch a plane back to Asia, but here's a quick word to tell you you can now get the price of Genki English materials in your local currency. The new ones that have just been added are:

INR - India Rupee
DKK - Denmark Krone
HKD - Hong Kong Dollar
NZD - New Zealand Dollar
NOK - Norwegian Krone
SEK - Swedish Krona
CHF - Switzerland Franc
ZAR - South Africa Rand
Just pop along to the International Shop page, click what you want to buy, then select your currency. Very simple.

And here's a nice comment I just received today from a teacher in Germany:

"Spice up your English Class with Genki English! Turn up your CD-Player and "Rock'n English" with Genki English. Makes the boys love your class and participate more. GREAT STUFF!"

Thank you very much Claudia-Sue!




February 5th 2007 - Sustainable Fish
One thing I want to work more on this year is using the Genki English games, philosophies etc. and applying them to other subjects. Very often just one idea can totally change how a student perceives a subject, and one particular area I want to help with is the UN's Decade of Education for Sustainable Development.


There are lots of good resources out there, for example the www.sustainabilityed.org website. They have a very nice online game for teaching students about over fishing. And it would work great as a classroom game that you could fit in an English or "Integrated Studies" lesson. e.g.

Preparation

1. Put the kids in groups of 3
2. Give each group 3 A4 pages of clipart fish.
3. The kids cut out the fish.
4. Using a piece of string make a "sea" in the middle of the desk.
5. Put 20 fish in the sea.

The Game

1. Each group decides how many fish to take out of the pool that day.
2. They take them out and put them in their fishing baskets and write the number on a piece of paper.
3. Count up how many fish are left.
4. Calculate what 25% of that number is, and add this many new fish to the sea.
5. You can only have a max of 20 fish in the sea.
6. Repeat from step 1
7. When 10 days have passed sit down.

Scoring

13. Write on the board 1-10 for the days and the group names down the side.
14. Write down how many fish each group took each day and how many fish were left at the end.
15. See which team got the most fish, and the strategies they used.
16. See which team got the least fish and the strategies they used.
17. Discuss.


This is a simple lesson that works really well. The trick with the larger subjects such as water hygiene or deforestation is breaking them down into small enough targets for one lesson or course of lessons. Once you have those targets it is be quite simple to use Genki style games to get the point across. This would be in a similar way to the idea of using say the Ostrich Game to teach food groups ( you put pictures of foods on the kids' back, when they see the card they say what food group it is), which has nothing to do with English but really works for the new subject. It's coming up with "bite size" versions of the sustainability issues that I need the help with!






February 2nd 2007 - School Subjects Ideas
Last week we had a request for ideas for teaching school subjects. Regular forum contributor Yumiko has sent in a couple of suggestions.



1. Scatter picture cards of various subjects around the room.
2. The teacher calls out a day of the week.
3. The kids have to pick up the subjects that they have on that day and read out their timetable.
4. The quickest team is the winner.

One other idea was to get the kids to make their dream timetables. Needless to say it mostly gets filled up with P.E., lunch and club activities. And English of course ; )




February 1st 2007 - Easy games? Hard games?
After spending most of the past few weeks, and this morning, recording in the studio, I spent the afternoon in Starbucks chopping up audio files and making the new Genki Korean games.


The thing that struck me the most when I came to play them was just how hard or easy the games can be, eventhough they're basically the same. For example the Ordering Food game seemed really easy, so I had to make it harder, but the telling the time game was rock hard and took me ages to finish! I often have teachers saying I should vary the games more, but the mechanics do sink into the background when you are presented with new language.

When I test the English versions, the choice of English is really important, and it is a huge advantage for most modern kids knowing so much English in advance. With Korean it's very much a stab in the dark in the beginning, but luckily the games do make it worthwhile. And now I've got all these phrases running about in my head which is driving me mad! But I guess that's what they are supposed to do.





January 31st 2007 - Business English
Quite a few of the teachers last week also taught Business English. A lot of Genki English style games are actually used by businesses in in-house training ( I learnt a few good ideas on the course I did at Arthur Andersen). At the end of last week's workshop teachers were saying "Well, yes it does look like only kids could do this. But then again we were all sceptical adults only a couple of hours ago and now look at us!"

From about 13 years old kids go into the funny Harry Potter Effect stage, but the day they turn 20 everybody goes back to being a kid, and basically stays that way till they are 90 or even above. So my tip of the day is to try your favourite Genki stuff in your adult classes, you might just be surprised!




January 30th 2007 - Cut at the prime
With all the games on the site, one question that often crops up is "Do I really have to do a different game each lesson?". The easy answer is, of course, "no, not at all".

Whilst the English content of the lessons should always be on an upward spiral ( there's no point just doing "fruits" for 3 lessons), if the kids are still into using the same game but using today's new English, then by all means save the time that explaining a new game would take and use the same idea again.

But of course don't play a game to death. The trick with a good game is the same as a good TV show or movie franchise, cut it off at the peak. That way the kids will all be asking for it and will love when you bring it back for a review lesson, but do we really need a 6th series of "24"?




January 29th 2007 - Sneak Preview: GenkiKorean.com
If you want to learn a bit of Korean, be sure to check out the upcoming Genki Korean site. As you'll see it's not finished yet, but there are a few nice little games on there including a talking alphabet page and some very nice numbers games. It's quite fun to play and it really does work.

I've been working on the site for quite a while now and have got all the Korean recordings done this month, basically because I wanted to learn Korean myself and figured I might as well put my money where my mouth is and use a Genki way to learn it!

If enough people use the site hopefully I'll be able to keep it free, so please tell everyone about the new online way to learn Korean: GenkiKorean.com! Lots more games coming soon...



January 25th 2007 - Naughty Curiosity
Reader BBB put a comment on the forum the other day about the "Japanese stick" idea I mentioned in the last post. . The comment being that it's not a good idea to use in places like Okinawa where the Japanese authorities used to use a similar technique to shame people for using their native language in real life!

It just goes to illustrate that any "punishment" type idea will always have some form of negative consequences.

But one other idea that can work in a very positive way is curiosity. Simply bring along a prop, doll or toy and sit it at the front of the class. Then ignore it! The kids will be totally curious near the end of the lesson and dying to know what it is. Even if you don't use it in that lesson, as long as you occasionally do use the curiosity object, it will have a great effect. Plus if you tie in using the prop with a well behaved lesson it's great positive reinforcement!




January 22nd 2007 - Naughty Kids
One big difference between workshops in Europe and Asia is that in Europe there are often more requests for "keeping the kids under control" type ideas.

Once you get the warm up right most kids keep under control for a period of at least a year, but of course you need to keep coming up with new techniques. On Saturday the teachers came up with quite a few suggestions themselves. e.g.


Giving the kids marbles or counters and taking them off them as they misbehave. ( small groups )


Getting sugar high kids to be your assistant. ( big groups )


Having a "naughty chair". ( It seems like you can get a lot of ideas from Jo Frosts' Supernanny.)


In Japan last year there was the idea of having a "Japanese stick". If anyone uses Japanese when they shouldn't they get given the Japanese stick. They can only get rid of it by passing it to someone else who speaks Japanese! Of course you can adapt this for any other country you happen to be teaching in.

As with any of these ideas it's very much a "choosing the right tool for the job" exercise as nothing ever works 100%. And at the end of the day, rather than spending your time trying to keep up with bad behaviour, it's nearly always much more worthwhile to invest time in finding exciting and interesting lesson ideas that will get the kids so involved they won't have time to play up!





January 20th 2007 - Genki English in Cologne, Germany
Now I've done quite a lot of international workshops it's a lot less stressful not having to worry about what things to present and what things will go down well. As long as I start slow, take plenty of questions and do lots of the songs & games pretty much everything seems to work great!

Today's group of teachers were from the ELTA-Rhine group and were fantastic. In the first few minutes we had quite a few "Oh my goodness, what on Earth is this?" type of expressions on people's faces as they realised how much moving up and down there would be, but by the end of it I could move back and just left everyone to get on with things as they were indeed nicely genkified!

Last year near Hamburg was also great, and one of the teachers today came all the way from Frankfurt. Next year it would be very nice to do a tour of all of Germany! The teachers are great, the materials work so well and there are so many great cities to visit here. If anyone could help set some workshops up I'd love to hear from you!


Content wise it was a basic 3 hour introduction, mainly based on the "What would you like to see today?" question posed in the string game. Then we went into What's your name? ( I would have loved to do the Genki German version, but English was the request of the day!). Then How are you? and How are you Monster game?. Do you have any pets? came up to show how to introduce new language in a game form ( this time sticky fingers), rather than having to pre-teach it. Then the Balloon game in the alphabet race version and shiritori versions.

After the break we had a request for the Good Morning song, then Left & Right and Thank you song to finish with.

We covered most of the Online Workshop Videos, but as is often the case in Europe the teachers were not only wanting activities but were also asking lots of great questions.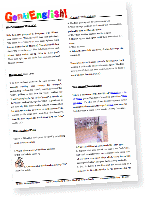 Overall though it was a great day. I'm really happy that Genki English works so well in Europe, both with the language content and the activities, and the songs seem so universal. There are quite a few teaching systems around over here, but Genki English is pretty different to say the least! A lot of the teachers were also pleasantly surprised that I haven't done it as a "you can only use this if you pay a huge monthly fee" system. All you need is the CD 6 pack and a little enthusiasm and off you go! This may be a little stupid on my part, but getting the word out there is the main thing I want to achieve.

And thank you everyone so much for today. You were a great group and you made me feel very welcome. Email me anytime you have any questions or have things I can help with. And if anyone else in Germany, Europe, or anywhere else in the World for that matter, can get a group of teachers together for a workshop you won't regret it! Just drop me a line and we'll work something out.



PS. All the lesson plans are online, but if you want something to print out and read, have a look at the booklet I did for the Hamburg workshop last year!







January 19th 2007 - How much is it, Mr Wolf? + School subjects
I'm supposed to be in Germany today, but with all the typhoon like winds and cancelled flights in Europe at the moment I've suddenly found a spare day, which means I can also update the blog!

Reader Dawna sent me an email yesterday. She sent in a very nice idea of using the Mr Wolf game , but for teaching "How much?"


1. The kids ask you "How much is it"?" and you say the price.
2. They move this number of steps.
3. If you say "It's free!" they have to run back to their base.

It's a great variation similar to the Nemo game or How are you monster? game.



Dawna also asked about fun ideas for teaching School Subjects. This is another one of those themes that I find really difficult as usually the kids don't have that much passion about it! I suggested simply using "What's your favourite subject" as the question then playing one of the basic vocab games such as gokiburi, island hopping etc.

But if you have any suggestions on how to make "School subjects" fun then please write in and I'll share them with everyone here.

Right, off to the airport again, and I'm looking forward to trying the How much game with the Wieviel kostet das? song tomorrow!

January 14th 2007 - English Urawaza
A couple of years ago I wrote a motivation book to get learners geared up and totally enthused about getting really good at English. Basically that's what I spend all my time in Japan doing and it was great to get it down on paper.

Last year a few publishers were asking about it, but to get it put out as a printed book we were talking about another couple of years!

So in the spirit of "it's better out there rather than sat on my hard drive" I've put it up on the site for free. If enough people visit it will hopefully pay for itself that way. There are still a couple of things to check and a couple of little bugs in there, but it's basically finished. If you want your adult students coming to class saying "Wow, I really can do this!", get them to have a read!

"Success secrets for learning English"

And thank you to everyone who helped out with the translation work!




January 10th 2007 - Winter Clothes
As you may have guessed from this morning's newsletter, "Winter Clothes" is the big new topic for the month.

I didn't manage to get the song completed in time, but there are some nice game ideas along with A4 cards, minicards, the picture book and a very nice online game.

It's a nice intro into clothes words and doesn't leave the kids confused with how different people in different countries say things and it works as a great lead into the "Animal Fashion Show: Dressing Up" theme.



January 8th 2007 - UK - For your students
With over 8,000 people a day on the site, quite a few of them are students. But if you're not into teaching, then finding the stuff that's useful for you i.e. all the online games etc., is quite difficult.

So I've just put a "for students" link at the top of the English and Japanese main pages. Hopefully that should help a lot of your students get to the fun and funky stuff straight away!





January 2nd 2007 - UK - 2007 Calendars
We start off the year with a request for 2007 versions of the Genki English calendars. They're great to hang on the wall. The "When, when, when" theme is also fully updated with 2007 & 2008!.

This month's recommended theme is of course "Make a Face" which ties in nicely with the Japanese New Year game of Fukuwarai. The song was a big hit last year and now it's available on CD it should be even easier to use in class ( or homework of course). Although to be honest many teachers have found the "Draw a Face" version to be more useful language, you can find that version on the "Bonus tracks" at the end of the CD.

Enjoy.







Click here for my Diary August - December 2006

Click here for my Diary March - July 2006

Click here for my Diary January - March 2006
Click here for my Diary October 2005 - December 2005

Click here for my Diary April 2005 - October 2005

Click here for my Diary July 2004 - Apr 2005

Click here for my Diary Jan - June 2004

Click here for my Diary June - December 2003

Click here for Richard's Diary Jan-May 2003
Click here for Richard's Diary 2002!


Sign up to get my top tips, games & hints via email!



Copyright (C) 1999/2019 by Richard Graham www.GenkiEnglish.com