! ESL EFL English site for elementary school kids, with free MP3 songs, games and teacher training >
Richard's Diary!
Take any problem in the World and it's invariably caused (or made worse) by a lack of education. Too many kids hate school because it's too boring.

The aim of Genki Learning is to have all subjects in all countries taught in a fun, engaging and effective way. There are already a few million kids benefiting from this, and even a whole country where the government has put it in all their schools. But there's still a long way to go!

While I'm on the road you'll hear about my travels & workshops, and when I'm doing studio work I'll keep you up to date with ideas, updates to the site and some of my favourite teaching resources. So if you want to find out what's it's like behind the scenes or how & why I do what I do or even if you're just nosey or a bit bored, have a read.

I'll update the diary as often as I can, so keep coming back. And of course whilst I'm away, the office staff are always ready to send off your CD orders just as soon as you send them in!


Subscribe in an RSS reader - Previous Entries are here

---
March 31st 2008 - Weather Game
| | |
| --- | --- |
Stephanie wrote in asking how I got the live weather reports on the "What's / How's the weather in ...?" game.

The live widget I used is from weather.com and it's called "Weather on your website". If you don't have your own site and want to choose different countries, ask the computer teacher, they might be able to knock up a page for you on the school's website.

The game itself is really good:

1. Teach the weather song and the "Where are you from?" song.
2. Give the kids a map with the countries.
3. They guess the weather and temperature in each place.
4. Print out the live weather reports just before the lesson
5. See who got the closest.

It's a nice way to combine two themes and it's really great seeing it click in the students' heads when they realise that Summer and Winter really are reversed in the hemispheres!

Have a try of the game in class and oh, don't forget the online games for learning the weather and countries.

There are also some countries ideas on the members forum: here and here and the song with new countries here (part way down the page.)




March 29th 2008 - Something Nice for the Weekend
I got this feedback form in my email this morning:

"This program is really amazing, I have to say thank you so much to give me or show me how to help my kids to learn english so fast ......they love me and their parents said that their kids love English too. Love, Yarlin"

Thank you Yarlin, that is really nice to hear, especially after a hard week.
For everyone else reading this I hope your students feel just the same way about you too.

Enjoy the weekend, there'll hopefully be some nice new card games for you next week...

Be genki,
Richard



March 28th 2008 - 20 Tips to Get Motivated & Genki
It's amazing how much stuff is on the Genki English site. Today, totally by accident, I came across this page of 50 Tips to Get Motivated and Genki. It was written for when you can't seem to get anything done and want a bit of an energy boost. I'd completely forgotten about it, but it's a nice bit of fun. Here are the top 20:

Jump up and down 20 times.
Realise that "if you wait, all that happens is you get old"
Eat an ice cream.
Imagine if your salary suddenly doubled.
Scrunch up your face for 15 seconds (but no longer as your eyes will go funny!)
Aim to do two hours work in the next hour.
Play a Genki English song really, really loud.
Find out how many things in the room are coloured green.
You know, the sun is always shining somewhere in the World.
Think of another 50 tips to motivate yourself.
Throw a paper airplane at your boss.
Throw away three things from your desk.
Go and smile to the mirror for 30 seconds.
Go and make your co-workers a cup of tea.
Take a 20 minute walk.
Buy a new hat.
Organise a staff night out.
Write a poem about fish.
Think of something good that has happened today.
Think of as many uses as you can for a waste paper basket.
Tell someone how good they look.
Close your eyes and daydream for 1 minute.
Go to Starbucks and have a White Chocolate Cafe Latte. Or don't and feel good at how many calories you've saved.
More are here: 50 Tips to Get Motivated and Genki




March 27th 2008 - 6th grade & Warm Ups
Here are a few of the teachers' questions I've had over the last couple of days with excerpts from my answers that you might find useful.

Richard asked about 6th graders:
... here's an article you might want to have a look at http://genkienglish.net/6thgraders.htm ...

Flavia asked about a demo class for numbers, colours and body parts.
... One idea that covers all of them is the Monster Drawing Game Or you could try the Doctor Doctor game Or a version of the Pink Fish game (using number, body parts and colours cards)...

Leei asked about Warm Ups.
...probably the best one to start with is Disco Warm Up or Good Morning or When, When, When or the TPR Warm Up game. ..

And Colleen asked "Do you think 6th graders should go to an elementary school?"
What a great question. In many countries they don't. But if you put them in high school you'll probably have quite a few kids who aren't yet mature enough. So there are pros and cons to both. If I had to choose, I'd probably say "no". But that's probably me just being selfish and wanting an easy time in elementary school. What do you think?



March 26th 2008 - Indy Jones Game
It's newsletter day today and this month's "Game of the Month" is the first Indiana Jones game.

I've been testing it on the site for the last few weeks and the most popular question has been "Where can I buy the Indiana Jones hat?". Luckily it's an easy one, Amazon and ToysRus both have them. Plus of course several Disneylands!

I've updated the game so that it's not only useful for phonics/spelling but you can now use to it to review several GE themes.

Keep an eye out for the next Indiana Jones game as the excitement builds before the premiere of the new movie!



March 25th 2008 - The Alphabet in 20 words
Here's an interesting list for you, 20 words that cover the entire alphabet. If you planned it right you could base a whole hyper-speed phonics curriculum around them. Thanks to Chris Hunt for the list. You can find more of his, sometimes off the wall, ideas at wisehat.com

cat
hat / hot
dog
pig
pen
bus
bed
cup / top
gum / jam
jet / vet
run
lip
wig
fox
yak
quiz



March 23rd 2008 - Phonics = Katakana for English
I don't know if you managed to catch Genki English on the TBS Radio Show "Stream" the other day. I didn't because I'm in Italy but apparently they were doing a special on phonics are were very (pleasantly) surprised to find out the how easy it is and that the alphabet song doesn't have to be "ay bee see" (they were using the Genki Phonics song instead). Eventhough educators use the word phonics all the time, it still is a pretty new thing for most people, and is magical when they do see how simple it is.

Over on the forum there was a question the other day that said "Is it ever OK to use katakana in English class". ( Katakana is the Japanese script that some teachers use to write out English words). My answer was "It would be if there were new symbols that represent just 'k' instead of 'ka' etc. but hang on, we already have them .... phonics, which is just katakana for English!".

Maybe that's an easier way to explain it to parents and teachers in Japan?



March 21st 2008 - Fine thank you, and you?

| | |
| --- | --- |
Every month I have an article in ALC's "Kodomo Eigo" magazine and they've just given me permission to put the English version online for free. The basic idea is that I take some of the strange or annoying English that is often taught in Japanese schools and try and make it sound a little cooler and more authentic.

From April they've actually doubled it so I have two articles in each issue and as luck would have it my "classic annoying English" for this month is the dreaded "Fine thank you, and you?" robot answer to "How are you?". If you want to get the message across to your teachers, showing the magazine might just help, people seem to believe things more when it is written down in black and white!

If you're teaching overseas you might be wondering what all the fuss is about the phrases below, but if you're in Japan you very quickly tire of hearing the same things over and over again!

Here are a few links to the English versions of previous articles (just ignore the Japanese menus on the page)



April 2008: Bad: Fine thank you and you? > Good: I'm good, I'm great!


April 2008 (Part 2):Bad: : Do you like dog? > Good: Do you like dogs?


March 2008: Bad: Etto > Good: Hmm


February 2008: Bad: What do you like fruit? > Good: What's your favourite video game?


January 2008: Bad: Do you know kendama? > Good: Do you know what this is?


December 2007:Bad: What time is it now? > Good: What time is it?


November 2007:Bad: How many members in your family? > Good: Do you have any brothers or sisters?


October 2007:Bad: Hello Mr Richard > Good: Hello Richard Sensei




March 20th 2008 - Soccer Game + Danger Monkey
There's been some great feedback on the forum about the various Genki English songs, here are some comments from Flossy in Austria about CD7 with some nice ideas for the soccer theme and a warning about Baby Monkey!


Come on Come on - The football song was a massive hit . They gave it lots of 'gas' and had loads of fun doing to the actions. I had taken in a full size foam football and we played a game. The children said a word as they did the action. I am in a classroom so they had to be a little careful! eg "Throw" - child threw ball to next in circle - "Catch" said the child as they caught it! mostly anyway. We matched up lots of actions, had a free pass session saying pass each time and then everyone went into goal. It was very loud when the children shouted "Score or Goal !!!!!!" and celebrated. I liked this game as no one is out, a bit of a problem with most of my students here! It was also very amusing to watch some of them try to head the ball. I know this will become a weekly favourite as I was asked if we could play it next time.


What time is it? 2 (It's 2:10, 3:15 etc.) I think I have several budding opera singers. They all decided to use a funny voice to sing the song. They have no problem with telling time so I do not know how it would work with younger ones. I will try it soon and let everyone know how it goes. We did sing it three times and used the arm actions just as the computer animation. Good for their fitness too and waking up the brains a bit on a slow day maybe?




Where is Baby Monkey? They liked the game and enjoyed singing the song. There was only one downside with the animation for this song. Baby monkey appears in the washing machine and the same day an article in a local paper had reported an incident (I don't know where in the world) where a baby had been put in a tumble dryer! I did not read it myself, but the children said they thought it was not so good for younger children to see this. I said I would warn all children they should never pick a dangerous hiding place. This is just the same as the warning for the pond in the Easter song. I know as a teacher you have to be so careful with the material you expose the children to, so maybe its worth talking to them about this.

Genki Disco Warm Up Extended Mix - I used the karaoke version of the song and had changed the lyrics to suit some of my current 'command' words. They really enjoyed it and again this will no doubt become a firm favourite amongst my students.

Thank you very much for that Flossy.

If you have any feedback on any of the songs please send it in, there's a form and the end of each song page. If you have video of your class doing the songs it would be even better. Any extra little hints and tips to help other teachers out are always appreciated however small or large they are!



March 19th 2008 - Low Dollar Bargain CDs
As you may have seen on the news, over the last few days the dollar has dropped tremendously. Now I probably shouldn't be pointing this out, but if you pay for the Genki English CD Sets by credit card online the price is actually fixed in dollars. Which means that if you live in Europe or Asia the price you pay in those countries has dropped tremendously as well. For example the Japan price of the Full Teacher's Set is 19,800 yen, but paying online with a credit card is at the moment around 16,200 Yen, 107 Euros or 162,000 Won (but this changes by the hour, click here for an up to the minute price).

So if you have a friend who you'd like to introduce Genki English to or if you'd like to buy another pack for yourself now's a pretty good time to do it! I would imagine the markets will settle back down again in a few days. At least I hope it does!

The same thing also applies to the Download Pack. But luckily, for me at least, the Student CDs are priced in yen. So those have shot up in price for readers in the States, but of course are still the same price as usual for everyone else.



March 18th 2008 - Win a trip to Disneyland
It's not often that I find something useful in publishers' newsletters, but today's from Longman Pearson had a couple of useful bits & pieces. One is an "academic article" from Aleda Kraus about why music is good in class. I like how she distinguishes between songs and chants, and why songs are better!
>> (English) http://www.eltkids.jp/archive_e/358.html
>> (Japanese) http://www.eltkids.jp/archive_j/356.html

And the one that probably grabbed your attention in the title, they're also offering a competition with a chance to win a trip to Disneyland in Hong Kong!
>> (English) http://www.eltkids.jp/info_e/44.html
>> (Japanese) http://www.eltkids.jp/info_j/43.html




March 15th 2008 - Writing Stories
On one of the recent discussion boards someone was asking about writing stories for homework and whether students needed a lot of grammar or vocab to be able to do it. Here's my reply, I thought you might find it useful too!

---------------------------------------------------------------------------------
I've also had great success with stories and it can be really, really simple stuff from even really new learners. It's the imagination rather than the English that counts. For example a simple comic strip could be:

Pizza?
Yes, please!
Here you go.
It's hot!
Crash!

Add in the pictures and it's a fun story. A beginning, middle & end and there you go. With my own picture books I often just use the target lesson language and then just put a twist at the end. The kids like them and then some of them get ideas for doing their own.

e.g.
How did you get here?
I came here by car.
How did you get here?
I came here by train.
etc. etc. then it goes into....
How did you get here?
I came here by hippo!
Well, I came here by chicken!
And I came here by cockroach...

Gradually getting more and more crazy!

If you have the right kids, or right source material (kids newspaper cartoons that you can download etc.) you can produce some amazing stuff.

Be genki,

Richard
---------------------------------------------------------------------------------------



March 14th 2008 - Planet Eigo in the Yomiuri
Yesterday the Daily Yomiuri Newspaper in Japan did a "review" of the Planet Eigo book. If you haven't ordered the book yet you might want to have a read at what they say. Since I mentioned about the book in the Genki English newsletter this month we sold out of the first batch we received and we're well into the second lot with very good comments from people who've bought it, some even ordering a second copy for their colleagues.

Just one thing, the newspaper did get the price wrong, sorry about that! Anyway, here's the review and here are details of the book with the order form.


March 13th 2008 - Trains not Cars
Usually when you get off a flight, having to mess around with timetables and connections on the trains can be really tiring, well at least it is for me. I find it so much easier to just pack my bags in a rent-a-car and off you go.

But as far as immersing yourself in the language goes I think I spoke more Italian trying to find my way around on the trains today than I did Portuguese in the whole time I was over there!

So that's my language learning tip for the day: don't hire a car, take the train. Oh and if you do have to work in Europe, plan it for off season, this is the view I woke up to this morning and it works out cheaper being here than the UK or Japan! Now if only I was on holiday instead of working ... : )



March 11th 2008 - Teacher Training now on DVD
The Genki English Teacher Training Video has become a bit of a life saver for people doing elementary workshops in Japan. You simply pop on the video and in an hour you have a room full of teachers who are now confident and have a much better idea of how to go about things. It's all done with skits and jokes that really get the message across.

But as always time marches on, so today I'm very pleased to announce the release of the all singing, all dancing DVD version!

Having it on DVD makes it so much easier to use, now instead of having to wind through the tape you can simply select any of the 24 sections. Need the games section? Or the part about why we teach English? Or any of the mini-cartoons? Just hit the button on the menu! Plus I've also added in English subtitles, so now even if you don't speak Japanese you can see how and why everything is done like it is.

There are plenty of teaching ideas as well as real examples from shows and classrooms and it's a great introduction to elementary school teaching. You can buy the DVD on its own, or my advice would be to ask your school to buy the Superpack, it will really help get all your teachers up to speed!



March 10th 2008 - Junior High Worksheets
There is a whole page of Junior High games on the site and the Planet Eigo (games, ideas & theory) & Textbook Trail (lesson plans and worksheets) books are really popular. But one thing I've always wanted to do was to have a list of each chapter in the Junior High Textbooks and have a game and handouts for each one online, just like the Textbook Trail does in book form.

Luckily though, someone else has done it for me! Have a look here: http://www.sendaiedu.com/bynewhorizonstext1.html A bit of a disclaimer, I haven't actually used any of the material (I don't really trust unknown Word files that are downloaded from the net), but it looks just the ticket for JHS lessons. If you try it out, please let me know what you think.

And if you have any of your own worksheets for Junior High then please do send them in. I get emails every week from teachers wanting more Junior High materials and it would be fantastic to do something like we have with the Senior High School Lesson Plans & Handouts. Your fame and glory awaits.



March 7th 2008 - 100s of free printable menus
Although the Genki English Food & Drinks menu games (see the worksheets on the lower right of this page & this page) work really well for beginners, for more advanced classes real authentic menus are what's called for.

You'd think there would be a whole stack of them on the net, but it takes ages to to find any decent ones. So here's a site that could prove very useful: allmenus.com.

They're just text, but the content is great, and authentic, and you can always put the data into a word processor to liven it up with some fancy graphics. Having real menus from famous places like Brooklyn or LA is also great for the students. Eating like a rock star!

A couple of class ideas are:



Read out what you'd like to eat, students listen and write it down in groups.


Read out what you'd like to eat, quiz to see who can remember the most without writing it down.


Read out what you'd like, students total up the price, quickest to shout it out wins. (This is what I use with the Genki English worksheets).


Give the kids a budget and they have to figure out a menu for you, nearest to the total without going over wins.


Just do a basic restaurant role play!

Hopefully that's a few ideas for you and if you do happen to spot any fancy, graphical menus on the net then please pop the links up the forum, I'm sure we'd all love to see them!



March 5th 2008 - A free, printable cut-out village
It's not very often that I come across a website and go "Wow!". But that's just what I have for you today: meddybemps.com.

First of all I loved their illustrations and what looks like an excellent selection of Easter activities.

But then I came across this, a whole printable cut-out village!

They have over a dozen buildings including a railroad station, a bakery, fruit stand, ice cream stand, candy company, video game company, bank, flower shop and pet shop. You simply print them out (on good quality paper I would imagine) and make your own town.

They look fantastic and they are all available free of charge.

It will be so cool for doing things like "Where do you live?", "Where are you going?" or even just directions using Left & Right.

I'll keep an eye out for any more cool websites out there, enjoy!




March 4th 2008 - Double Easter Egg Karuta
It's newsletter day today and this month's game is "Double Easter Egg Karuta".

Another idea I heard about was to flip over the traditional Easter Egg Hunt, where the kids hide the Easter eggs and then tell you where they are in English e.g. in the desk, under the bookcase etc. You time and see how long it takes. For larger classes you can have different coloured teams, and time to see how long it takes you to find each team's eggs. Obviously the clearer the instructions the faster you can find them. Mind you for safety's sake it may be better to stick to the traditional way where the teacher hides them and the kids have to search. As with the other GE event songs the Easter Song makes teaching the English nice and easy, although you might also want to add in the "Where is Mr Monkey?" song for prepositions.



February 29th 2008 - Primary Languages Show
I went to the Primary Languages Show in Manchester today. I wasn't presenting this year, but I was back in the UK mixing the new album so figured I'd pop along.

It is amazing to see how the situation in the UK is almost identical to that in Asia, with many teachers worried about having to teach a language they don't speak. However I was also impressed today with the many teachers who clearly did know what they were talking about both from the theory and practical aspects of primary language teaching. A couple of other things that struck me as different were:

Interactive Whiteboards
Everybody was using them! Even though all the Genki English materials are interactive whiteboard ready, hardly any teachers in Asia use them. But they make life so much easier. No more bending down to type or move a mouse, just touch the screen and off you go. I wish more teachers would make use of them!

So many European Languages
In the business world all we hear about these days is Chinese, Chinese & Chinese. One of the lines I use in my workshops is "There's only one valid excuse not to do English in primary school. It's if you want to do Chinese instead". Today most of the materials were for European languages and mainly French. I have a feeling that will change soon.

The prices!
English teachers certainly do get a great deal for their money compared with teachers of other languages. Today's conference was around $600 for the workshops and most of the materials were several hundred dollars. I should put my prices up!

The Language Ladder
The UK government have issued a "language ladder" to help examine how children are progressing. It's very useful. I picked up lots of nice posters about it, but sadly couldn't find anything but this on their website. But here's the one for "speaking":

1. I can say and repeat single words and short simple phrases,
2. I can answer simple questions and give basic information.
3. I can ask and answer simple questions and talk about my interests.
4. I can take part in a simple conversation and I can express my opinions.
5. I can give a short prepared talk, on a topic of my choice, including expressing my opinions.
6. I can give a short prepared talk, expressing opinions and answering simple questions about it, using a variety of structures.
7. I can answer unprepared questions in a conversation or following a presentation
8. I can narrate events, tell a story or relate the plot of a book or film and give my opinions about it.
9. I can take part in a discussion, giving and justifying my opinions and ideas.

It's a very useful tool when building a multi year curriculum. It's a shame they don't have the reading, listening and writing ones online.

Activities
Activities wise I didn't see anything new that jumped out, most of the stuff we have on the games pages already. Although the government is wanting oracy before literacy, many of the activities were relying on children being able to read to do many of the activities.




February 28th 2008 - First 10 minutes video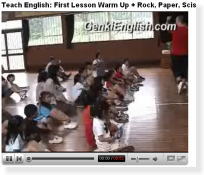 There's already a video of "How to teach Genki English: the basics" online, but quite a few teachers have asked to see how everything works in an actual class. So that's what today's video is, the first ten minutes of my standard first class.

If you like it, please give it some good marks at YouTube and I'll see about making some more.

I must have taught this lesson a million times so it is very well practised and very dense with regards motivation talking etc. but of course when I first started out my lessons were nowhere near as smooth, so please don't let the video scare you!

(If you need want to brush up your Japanese, have a look at my Classroom Japanese page.)

Hopefully you'll get some ideas and see how good even beginner students can be with a little motivation and music thrown in there.

It's of a small school where I taught all the grades together. They have had a few lessons before, but the Rock, Paper, Scissors song was their first time.



It starts off part way through my warm up,


Then Genki English Rule 1: Think you can and you can!


Then intro of Rock, Paper, Scissors i.e. each word twice and then once through the mini-lesson on the software part of CD4. As you can see the kids pretty much got it just from this.


Then Genki English Rule 2: Losing just means "try again!"


Then another couple of goes through the song very fast.


Then the song itself.

Altogether it's 10 minutes. You'll see how much Japanese I use and how much emphasis is put on motivation talk. These were really good kids, but their speed was about the same as most good classes.

The song is from Genki English CD vol.4: http://www.genkienglish.net/cd4.htm and there is a thread about this video on the forum.

As I said, if you like the video, please do give it some good marks at YouTube and I'll see about making some more!





February 27th 2008 - New Team Taught Pizza is out!

Ever since the Team Taught Pizza sold out last year, I've had teachers wanting to get their hands on a copy.

But not content with merely revising the TTP, this time AJET have added in whole new sections on Team Teaching, Learning Theory, Instructional Planning and Elementary Schools. Hence the rename of the book to Planet Eigo. I've already heard great review from teachers and I really like the parts I've seen.

We're hoping to get the first stock in this week, but expect it to sell out straight away,so if you live in Japan and want your copy right away get your order in today!



February 26th 2008 - The Queen of England never....
I found a nice little site with games for teachers of French. One of the ideas that I liked was the "The Queen of England never..." game....

1) You write the phrase on the board.
2) Kids race to the front and take turns to continue the sentence in as many ways possible.

Examples they give are The Queen of England never ... takes the bus, pays in cash, goes to the pub etc. You could also change it to any famous person, teacher or cartoon character.

Could be a good idea for Junior High level practice? You can find out more at http://www.frenchteacher.net/jeux.htm



February 25th 2008 - Song Videos
Hearing the GE songs is one thing, actually seeing how the gestures and everything works in real life is something else! So I've just put up 3 videos of large classes singing three of the songs: Left & Right, What time is it, Mr Wolf? & the Thank You song. For all of the kids they had only learnt the song 3 to 5 minutes before and for many of them it is their first ever English class - I'm sure you'll be impressed!

If you do like the videos, please give them some good marks at YouTube and I'll see if I can make some more. And if you have any videos of your students singing the Genki English songs I'd LOVE to see them! You can either send them to me, or put them up on YouTube and I'll link up to them. If everyone had just a couple of songs, we could get videos of them all done in no time!



February 22nd 2008 - Teaching "I want to be a ..."
Another tip for yesterday's "What do you want to do?" song is that it's very easy to change into "What do you want to be?", which can otherwise be a bit of a mouthful to teach in one go. From a motivation/careers education perspective, remember it's not just English that we teach, "I am a pilot" is a much better phrase than "I want to be a pilot" though. For children to actually see themselves in the role makes it a much more solid aim and much more likely to come true. Do you want to be the best teacher in the world or are you the best teacher in the world? : )

Anyway, after last month's Photo Real Flashcards I've had lots of really great feedback, thank you very much. And one of the biggest requests was for Jobs Photo Real Flashcards. We're still working on them and they are looking good.... so as a little taster, try clicking on the doctor dude above. You'll need your CD Owners Password, or if you don't have one yet simply order a Download Pack and you'll have them for tomorrow's class!

P.S. today's new game is Atley Jonas' "Ewww..gross", but be warned it's not for the feint hearted!



February 21st 2008 - Teaching Tips "I want"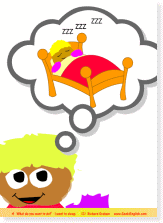 "I want" can be a popular request from students, but when teaching it there are a couple of important points to keep in mind. First of all, depending on the students' native language "I want" can sometimes have two very different meanings depending on what follows it. For example in Japanese "I want something" is ".... ga hoshii" but "I want to do something" is ",,,tai". So it pays to have a good solid explanation practised so the kids know exactly what is going on.

The second thing to consider is the "I want never gets" effect. For example if you are teaching in Europe, the classroom teacher may go out of their way to make sure students always say "I'd like to" instead of "I want" in their native language. Usually they are pretty unsuccessful at this, but the last thing they may want is an English teacher teaching "I want" as normal usage if they've been trying to get their kids off it all year! So it probably pays to check with them first. This difference is of particular notice with regards US-Europe uses of the word, for example when researching the second Christmas theme most American teachers favoured (favored?) "What do you want for for Christmas?" but many Commonwealth teachers were horrified by this and were 100% in favour of "What would you like for Christmas?".

But anyway, "What do you want?" is still a hugely popular question for parents to ask younger kids and "What do you want to do?" is something that people of all ages often use. I think I must hear it dozens of times a day! So let's have a look at "What do you want to do?" as a classroom theme.

My first piece of advice would be to introduce and practise all the verbs you'll need in a previous lesson. A couple of ways to do this are commands as in the TPR Warm Up, or my favourite using the "What are you doing?" song with the Harry Potter game.

Then it is really simple in the next lesson to introduce "I want to..." and re-use all the verbs from the previous lesson e.g. "I want to sleep." The kids are amazed to find out they can chop and change the English and it makes the lesson really easy as the only new thing is the grammar point, but they have enlarged their communication abilities immensely.

This week there was a request on the forum for an "I want " theme, so I've just put up a demo song along with some picture cards for "I want..." plus the "What are you doing?" verbs. It's still in the demo stage, but let me know if you like it and I'll clean it up and hopefully get it on the main site. Hopefully it'll make it a lot of fun to introduce this theme in your lessons:"What do you want to do?" song & A4 cards.

Oh, and if anyone has any great "I want" games then please send them in!




February 18th 2008 - Vegetables Song - Beta Test
Well I actually got through most of my emails quicker than expected, so can bring you what I did have planned for this weekend, the brand new "I like vegetables" song. It's really simple, and I've added in some new vegetable picture cards.

It will be to buy on one of the future CDs but if you'd like to download it for free, give it a listen or even use it in class right now, I've put it up on the forum for you. The catch? Well I'd really like to hear what you think of it! Even "it's good" or "it's horrible" is fine.

We did this last year with the CD7 songs and it worked great as people got to change the songs to their liking and I got to hear lots of other teachers' perspectives.

So download the song now and write up your comments (even just a couple of lines is OK) on the I like Vegetables page of the forum.

If we get enough people giving feedback I'll put up another free song later in the week!



February 14th 2008 - Names Quiz: What phonics really means
With over a thousand people a day on the phonics page alone, I feel quite a big responsibility in what I introduce there. Unfortunately quite a few teachers and parents are under the mistaken impression that phonics means "taking a letter and seeing what sound it makes". That's not what phonics means. Phonics actually means "here's a sound, which symbols can we use to write it down". It's a subtle, but big difference.

So to help make things a little clearer I've put up a new phonics name game on the site. This time you hear a sound at the beginning of a word and have to click on the letter that represents that first sound. It's the key skill for starting phonics. I've also used people's names as the quiz words. This is because when we were testing the game people were saying "oh, this is far too easy, I don't need to use this". But it was simply because they were hearing words they already knew how to spell so were simply ignoring the phonics side of things! This time, as I've chosen quite a few rarer names, everybody has to really listen hard! Have a try yourself, it will really help your students: phonics name game.

PS Happy V day, Valentine's stuff is here.



February 11th 2008 - Baby Sign Songs
| | |
| --- | --- |
If you're teaching younger and younger kids each year, this might be just the thing for the youngest of them all: www.BabySignSongs.com

Apparently it gives babies a head start on language development, gives them a big jump when they can physically talk and it causes less tantrums when babies can actually sign what they want instead of having to just scream! For English teachers it can be a great source of content for what can often be tough lessons to plan for.

Strange Fad?

Now I had heard about babies being taught sign language before but always thought of it as some hippy new-age fad type thing. Then last year I was having dinner with a friend and his family. Part way through their one year old starting signing away to his siblings. It was just unbelievable to watch, he was actually talking! Just using his hands.

I had a word with his mother and she is quite a baby sign enthusiast, she's also fully qualified in teaching it. So as I started researching into this a bit more, it seems like it really does work.

The only problem is that it can be a bit tricky for parents to learn some of the signs. (I was hopeless at trying to remember them!). There are classes, but not as many as there could be. We had the idea of trying to sign some of the Genki English songs but that didn't quite work as the things the average kindergarten / elementary aged kid talk about aren't quite the same as 1 or 2 year olds. Plus the songs were a bit fast.

"More milk please!"

So I took it down to basics and came with this really easy song using just the first 3 pieces of baby signing: more, milk & please. (Pretty obvious words if you think about it!)

February 9th 2008 - More Dice Games
I wrote this message up on a forum the other day, but figured you might find it useful as well:

Another idea is to mix it in with the "Doctor Doctor" game.
1. The kids "rock, paper, scissors".
2. The loser rolls a body parts die (it's part way down the right hand side of the page)
3. The loser then says "Doctor, Doctor my... (body part from the die) hurts".
4. The winner of the rock, paper, scissors then wraps this body part on the loser with toilet paper.
5. Continue from part 1 until someone is totally mummified!

Another good one is a variation on the "Pink Fish" game.

1. Give the kids 3 or 4 dice that can be used in a sentence e.g. colour, adjectives and animals.
2. The kids roll the three dice and say the sentence that appears e.g. I like big, pink fish.

It's more fun if you put the dice at either ends of the classroom so they have to run to roll them. It really helps get sentence word order stuck in their heads!

But you can pretty much use picture dice for any game where you need a bit of randomness. Even something really simple like throw 6 dice up in the air and the quickest person to say all the top pictures wins.Even more points if they can use them in a sentence.

One of the other forum members, Kiwione, also put up the idea of using the face parts dice for the Make a Face game. That sounds like a great idea too.



February 7th 2008 - Dice
Today's new worksheets are a set of dice for most of the songs. "But most of them have 8 answers, how can they fit on a die?" you may ask. Well most of them are funky 8 sided dice! Many kids haven't seen 8 sided ones before so get quite a surprise when they are making them up.

You can use them with the Dice Game or for adding a random element to an activity like the Doctor, Doctor game. Mark has also put up a list of dice games.

As with the other craft-like worksheets they are also great for introducing classroom English such as "cut", "fold" or "glue" and are very useful in calming a class down. But as with any of the worksheets it is just a bonus activity, the main focus should still be on the song & real life game practice.

Anyway you can find the new dice along with the other bonus worksheets on the right hand side of each songs page.


Enjoy!


February 5th 2008 - Mardi Gras
It's nice to be in Europe for Mardi Gras. In Portugal this week it's been carnaval, and whilst not quite as fun as Rio de Janeiro, it's a nice holiday mood, especially on a warm February day.

Mind you unlike French ("mardi") or Spanish ("martes"), in Portuguese Tuesday has nothing to do with "mardi", they use a similar system to China. Over there Tuesday is "week day two", in Portugal it's "day three".

Japanese still sticks to the "Day of Mars" theme. So along with "Saturn Day", "Sunday" and "Moonday", Tuesday is quite easy to remember as it's written as "day of the fire (planet)". Anyway, to help you remember the rest, here's a nice new animation of the days of the week in Japanese. Plus don't forget the very NASA-like days of the week in English picture cards. Just the thing to get sci-fi crazed boys interested in class!


P.S. Did you know that if you write to NASA they nearly always write back? How cool would that be for your students!




February 2nd 2008 - It talks!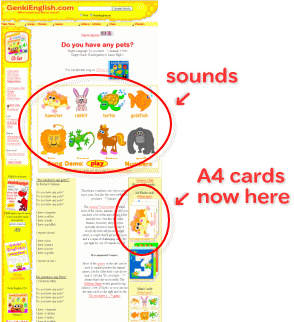 Just to let you know that the A4 Cards links have now moved to each songs' right hand column only.

Sorry for the inconvenience, but is so I can free up the pictures at the top of each page for something else. Now when you click on the pictures instead of the picture card, you hear the word spoken!

As an English speaker you may be thinking, "Why on Earth would you want to do that?". But it's for non-native speaker teachers to quickly check their pronunciation or, even better, now when kids get on the site instead of an error message saying they are not a CD Owners Club Member, they'll hear the word spoken when they click the pictures.

It's a tool that I always look for myself when searching for websites to learn languages, so I hope it doesn't inconvenience you too much but hopefully it may help a few of your students and fellow teachers.

As usual though I'm always open to feedback so if you don't like it (or do) then please let me know, there's always the possibility of changing back!




January 31st 2008 - More Snakes & More
A big new update is underway. The biggest change you'll like (hopefully!) is with the new songs pages. Now instead of just mini cards and the occasional worksheet, you'll be able to access the A4 cards in pdf format, colour and black & white mini cards, individual lesson plans in English and Japanese plus printable spaghetti, islands and snakes & ladders games for just about all the themes.

With thousands of files involved in the update there are bound to be a few slips and mistakes so if you do find any broken links or things that don't work I'd be very glad to hear about them.

Once everything settles down the whole site should be a lot easier for you to use with everything available to print out from one page. So have a try at your favourite lesson page and let me know what you think!



January 30th 2008 - Instant Name Worksheet Maker
Here's a nice tool I found whilst looking around the net for a free D'Nealian font.




Just pop in your students' names (one at at time of course) and you get a nice worksheet like this:


January 29th 2008 - Tips for Solving the Obesity Problem
Terrie's Take has an article this week showing how the worldwide obesity problem has well and truly reached even Japan. I can quite sympathise, during the Winter I get seriously fat from sitting down doing computer work all day. Of course in the Summer it all falls off (well most of it), from doing Genki English everyday, especially the intensive "bootcamp" workshops.


It used to be a few years ago that some teachers wouldn't jump around or use physical actions in English class. They'd raise their nose and say "Oh no, not in my classroom". Luckily, along with the "Let's order at McDonalds" type lesson plan, this attitude has pretty much vanished as teachers realise how much of a problem obesity is for kids.

The trick now is to introduce a more active lifestyle across the curriculum. This may mean introducing Nintendo Wiis in PE class (yeah, it's happening in the States), or the other way round, introducing more active activities in other classes.

If you do find yourself with a class of kids who could do with a bit of exercise, or fancy shedding a few winter pounds yourself, then here are my top 5 Genki English activities, they work for me every year!

1. Good Morning song - do the super jump version!
2. When, When, When - more jumping
3. Rocket Launch
4. Do you like...? Karuta game - just for the kids this one.
5. Gorilla Game

Usually I recommend teachers take a break or just keep an eye on the kids when they are playing a super active game (that's why I look energetic in workshops when in reality you are doing all the work!), but joining in is fun.

Plus of course all the songs on the site all have gestures and actions. Getting the kids to move around is something that will seriously improve their well being, and take the strain off health services around the world, plus of course on this site they'll get a big bonus of being able to speak English at the end of it all!

January 28th 2008 - Earworms & Elizabeth Smith
As you may have read in the newsletter this month, I'm currently in Portugal. For no particular reason other than it's the warmest place in Europe at the moment. What it does mean though is that I have to learn Portuguese. Yet another language, and this is one I know absolutely nothing about!

The thing is that my usual recommendations of Michel Thomas or Pimsleur won't work. Michel Thomas doesn't have a "learn Portuguese" version and my brain won't take using Pimsleur for more than one language (and I've tried it for Spanish, Italian and Thai already). So I just did the normal thing and googled "learn Portuguese". It doesn't half throw up a load of rubbish!

The only semi-decent course I could find was the Unforgettable Languages one. Their system is quite good in that it gives you stories or phrases to help remember words. The problem is that although it is great for reading and comprehension it is almost guaranteed to give you a horrible accent.

So my next stop was Audible.co.uk (I only realised I'd be here 3 days before so needed something in a rush). That did turn up two gems that I hadn't heard of before.


The first one was "Earworms". I'd really recommend them. They take the ordinary everyday phrases and put a chillout beat behind it. They also have courses for French, Chinese & Japanese etc. As I mentioned though I bought my course from Audible and to be honest the sound quality is terrible. It may be fine for an average spoken word course, but not for these music based titles, so I'd recommend getting them from Amazon instead.... except I've just checked and they don't have it!

Audible do have a free booklet you can download though.



The other course I found was "One-Day Portuguese: Teach Yourself" by Elizabeth Smith. She has good teaching skills and seems pretty prolific at languages. The course itself has a few jokes and although Ms. Smith comes across as a little "School Ma'amy" it is quite fun. My only concern is the pronunciation, her pronunciation is probably pretty good (if not native of course) but half of the time you are listening to her student, Andy, and to give you a confidence boost, I presume, he usually has a pretty bad accent which of course sticks in your head with several repeats. However I would recommend her course to any teachers as she has lots of good teaching tricks that I'm sure would be useful in class!

The thing that surprised me about both these courses is the amount of content they squeeze into one hour. I'm used to the more thorough approach which takes a lot more time. But I guess I'll just take the advice I give my students which is to buy as many of these one hour CDs as you can and just listen, listen , listen to them everyday. They'll stick in your head without having to do all the thinking of a Pimsleur course, and choosing lots of different titles will cover the basics in many different ways and accents which will hopefully iron out any mistakes or problems with any individual course.

Anyway thanks for reading. Obrigado (now is it just me or does that not sound just like "Thank you" in another language?)



January 26th 2008 - Phonics Posters


Lots of people have been asking for a printable version of the Genki Phonics page. So I've just uploaded a set of Phonics Posters along with the Phonics "Islands Game" and the Phonics "Snakes & Ladders Game".

The Phonics Page is hugely popular especially in the States at the moment, so all three printables are free for anyone to download. Enjoy!



January 25th 2008 - Free Hiragana Worksheets
It's the turn of the learn Japanese site to get some materials today, this time hiragana worksheets.
Each one is split into sections for easy learning and is ready to print.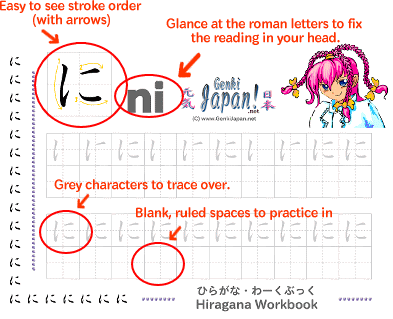 January 24th 2008 - CD7 Flashcards to buy
You can now buy pre-printed and laminated versions of the CD7 flashcards:


(i.e. Breakfast?, Do you have any brothers or sisters?, What time is it? 2, It's not bad, it's good!, Can you kick?, Rooms)

The cost is 5,500 yen plus post & packing, or you can buy them along with the other cards to get a nice discount.

In February schools usually have budgets to use up, so there's a very good chance your school will buy them for you (it saves a lot of printing time.) Just pass along the Fax order form or get your school to ring our office in Japanese on 0898-48-0256. Mrs Abe is the lady who will sort everything out for you.

Unfortunately we can only supply the laminate cards in Japan. The reason is simply that they are waaaayyy heavy. We tried to get a quote to send them to Taiwan last year and the shipping fee was going to be really, really silly (the Post Office people laughed at us). But you can still get the cards anywhere in the world, just buy the CD 6 Pack ( you know you want a six pack!) or Download Pack and you'll be able to download all the picture cards and for free!



January 23rd 2008 - Spaghetti Worksheets
Here's another downloadable book of worksheets for you:


I used to use these types of worksheets as a listening test all the time. You simply have 8 animals (or famous characters) on the left with 8 answers on the right. You read out 8 sentences and the kids join up the correct animal with the correct answer.

Of course preparing them all yourself can take a long time, so to save you the hard work here you have 40+ Spaghetti Worksheets ready to go. All the English is based on the GE songs so is really easy to do and it's also a great way to introduce the 3rd person forms in a really simple way.

Sometimes strange combinations crop up which can get the kids laughing e.g. "Mr. Hamster has a pet hamster." or "Mrs. Chicken, do you like eggs?" ( it takes the kids a few seconds to get how horrible that one is!) and I'd also recommend you draw the lines in yourself as you do the test, just so you don't get mixed up and use the same answer twice!

Enjoy.




January 21st 2008 - Photo Real Flashcards
Here's something a little different for you, photo real flashcards!




I was originally using them as flashcards for the GenkiJapan site, but they looked so good I had ones made up in English as well.
Some of the pictures look so good they'd be great on the wall as posters.

The idea isn't to teach them all, they're just vocab after all, but they are a great way to introduce more vocab into themes the kids have already done. e.g. once you've done "I'd like some...?", you can hold up one of new cards, teach the name and ask "So how do you say you'd like some of this in English?".

I could have put them up as individual files, but decided to do them up in "pdf" sets so you can shrink them, put lots on one page or enlarge them when you print them out. Currently we have "food & drinks", "sports & hobbies" and "house & home".
Let me know what you think and I might have some more made up!




January 19th 2008 - Islands Games Worksheets
There are quite a few new things in the pipeline at the moment, and here's the first one to be (just about) finished.




They are "Island Games Worksheets" like the animals one found in the worksheet pack. I found that one a touch too simple, but they are popular for younger kids and of course as something to take home and show parents. There are 50 new ones plus a blank version to download, along with playing instructions here: Islands Game Worksheets.

I was a little worried that some of the lines have become really feint in the black and white conversion, but have been assured that they should be OK and it makes it easier when the kids come to colour them in. What do you think?





Click here for my diary November - December 2007
Click here for my diary September - October 2007
Click here for my diary July, August 2007
Click here for my Diary April, May, June 2007

Click here for my Diary January - March 2007
Click here for my Diary August - December 2006

Click here for my Diary March - July 2006

Click here for my Diary January - March 2006
Click here for my Diary October 2005 - December 2005

Click here for my Diary April 2005 - October 2005

Click here for my Diary July 2004 - Apr 2005

Click here for my Diary Jan - June 2004

Click here for my Diary June - December 2003

Click here for Richard's Diary Jan-May 2003
Click here for Richard's Diary 2002!


Sign up to get my top tips, games & hints via email!



Copyright (C) 1999/2019 by Richard Graham www.GenkiEnglish.com