The software is divided into different sections.


Talking Words
Simply click the words or press the numbers 1 to 8 and hear each word pronounced.
Each word is recorded with different people and different intonations to give the kids lots of English exposure.




Talking Picture Cards:
Here you have all 8 of the vocab words on screen at once.
You can still move over them to hear them pronounced, and it is a life saver for classroom games.
Plus if you use a projector in class, you won't have to carry around all the heavy picture cards!

Learn the song with the illustrated "Mini Lesson", the teacher becomes the "director",
the kids become the center stage stars!
Perfect if you're no good at singing yourself.

Then the songs complete with lyrics and illustrations!
A fantastic way to liven up the lesson and get the words stuck in your head.
And a great way for kids to practice even when you're not there.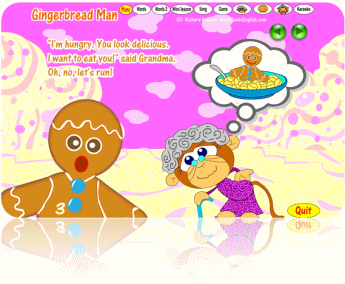 All the themes also have funky computer games get the kids to race against each other!
You could even use the games to "pre-teach" the new language to save more time for real practise with each other.




And to finish off you have the Karaoke Versions of each song

So there you go, that's just a little bit of the fun you're going to have with vol. 12
The ideas and songs you have here will inspire your students to try their very best to get fantastically good at English and be able to communicate with people around the whole world.
Being a teacher is a special job, you are very special people. Your students are very, very lucky to have you as their teacher. You are their role model to guide them through the adventure called life, to give them the English and skills, imagination and confidence to let them make any of their greatest dreams come true.
It's an exciting time. The future is in your hands, we're all here to support you. Try 100% for your students. Think "I can" and you can, if you lose, just try again. Enjoy yourself and above all …..
Be genki,
Richard