To receive your own FREE monthly email newsletter, enter your email address below!
---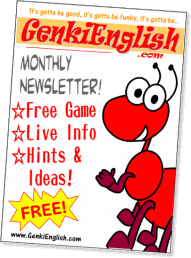 Contents:
1. What do you want for Xmas? Song
2. Game of the Month: Christmas Boat Race
3. CD vol.1 2006 Remix - out now!
4. New Picture Cards
5. Sweet Shop Video
6. And Finally....
Hello, and a very big welcome from Korea! It's great to present over here and get other teachers' perspectives on teaching and what you need to help your teaching along. It seems that, just like in Japan, getting the kids confident and making the lessons exciting and engaging for them, is what's most needed. So this month is a bumper month for website updates. Here we go....
1. What do you want for Christmas? Song
This has to be one of the most popular greetings in many English speaking countries in the run up to Christmas. It also makes a very nice lesson plan, where the kids can choose and think about what they'd like and then find out how to say it in English. As it's something they've chosen, and not something their teacher has told them to learn, it really sticks with them. To make it easier to teach I've written a new song to go with it, it's very simple and very Christmassy.
http://genkienglish.net/whatdoyouwantforchristmas.htm
There are also other Christmas Lesson ideas at
http://www.genkienglish.net/Christmas.htm
2. Game of the Month: Christmas Boat Race Game
This is a great game that was sent in by Genki English reader Jacq. You can use it for any vocab, and it works great for Christmas words.
1. Split the kids into groups
2. Put them in lines
3. Spread out a set of mini cards (
http://genkienglish.net/minicards.htm
) in front of each line.
4. The kids ask a question in unison and the teacher answers. ( "What do you want for Christmas?" works great)
5. The front kid from each line picks up the card that has the answer.
6. They pass it to the person behind them, but they also have to say the word.
7. When the card gets to the back person, they race to the front and tell the name of the card to the teacher. Fastest is the winner.
8. The kids who ran to the front now join the front of their line, everyone shuffles back and you repeat from 4.
It's great for Christmas parties. To learn some Christmas words ( and get cards to go with them) have a look at the Genki Christmas Theme page:
http://www.genkienglish.net/christmassong.htm
3. Big News: CD Volume 1 2006 REMIX

CD vol. 1 always has been, and still is, the most popular Genki English CD. But after 5 years of feedback from teachers and kids, it's been remixed with a whole load of extra material to make it easier to teach, and even more fun for your kids to use at home.
Full details of all that's new are on the site at
http://www.genkienglish.net/cd1remix.htm
The new version is still the same price of 4,200 yen + P&P, but there is a special upgrade offer for people who have the original version. Instead of 4,200 yen, if you send in your cover of your original CD the upgrade price will only be 1,500 yen. And that's not all, if you want to buy other copies for your students ( a great Christmas present as the new version has all the same cool games and software as CDs 2,4 &5), you can order as many as you like before Christmas Day (December 25th) and only pay 1,500 yen per CD. You've supported Genki English by buying the CD, so as a Christmas present I wanted to give something back.
To order the upgrade, send us your NAME, ADDRESS, TELEPHONE NUMBER, the lyrics booklet from your CD vol. 1 and 1,500 yen in cash for each CD you require ( e.g. send 4,500 yen if you want 3 copies). We cannot accept responsibility for money lost in the post so we recommend you use the Japanese Post Office's "Genkin Kakitome" service, which lets you send cash very easily. Send everything to us at: GenkiEnglish.com, Kokubu 3-10-18, Imabari, Ehime Japan 799-1533. And we'll send you your CD(s) straight away.
For people outside Japan,
send me an email
and I'll give you details of how to order. We will have to charge for Post and Packing outside Japan, but the price will be the same, 1,500 yen for each CD you order. A genuine bargain.
If you don't have CD1 already, you can still buy copies for your students for 1,980 yen each with a minimum order of 15 copies. These we call "student packs" and you can find out more here:
http://genkienglish.net/studentpacks.htm
The student packs are also really great if you have a computer room at school. You put 2 kids at each computer, choose the theme of the day, then when you say "go" the kids race to see who can do the computer game for that theme the quickest. The new games have been really jazzed up so it should make for a great lesson.
4. New Picture Cards
The new picture cards on the site this month are for telling the time, have a look at:
http://www.genkienglish.net/mrwolfsong.htm
From this week we're also including all the new picture cards (
"Vegetables", "Animals 2", "Under the Sea", "Easter", "What Time is it?" and "Halloween") at no extra cost in the laminated Picture Card Pack.
The total pack now contains a massive 350 pictures, all laminated and ready to go, which should hopefully save you a lot of preparation time.
http://www.genkienglish.net/picturecards.htm
5. Kids' Site: Sweet Shop Video
On the Kids' Site there is a new feature of mini-TV programmes. The first one is of me in a UK sweet shop, and is quite fun. If you have broadband, have a look
http://www.genkienglish.net/kawaii.swf
. On 1st December there'll also be a new song on the Kids' Site and it will be an illustrated version of the "What do you want for Christmas?" song.
6.And Finally
On the Japanese version of the site, I've also jazzed up the "Classroom English" page and "Parent & Child English" page so that they actually talk, if you have any friends who might be interested, ask them to have a look:
http://www.genkienglish.net/gamemenuj.htm
The Online Video Workshop page has also been spiced up to make it easy and quicker to load, so if you haven't already, have a look at
http://genkienglish.net/onlineworkshopvideo.htm
and there are now ones in Japanese online at
http://genkienglish.net/onlineworkshopvideoj.htm
This month we've also got a very special offer on the Kids English set of picture books, CDs, videos, etc. It's only available in Japan, but have a look if you're interested!
http://genkienglish.net/kidsenglish.htm
However thanks to the weak value of the Yen at the moment, the Genki English 5 CD Set is cheaper than ever to buy from abroad, have a look here to get the latest prices in your currency:
http://genkienglish.net/cdset.htm
And there are also lots of new updates scattered throughout the site, including new Readers' Games and demo versions of most of the songs. There'll be lots more coming up in the next few weeks, so keep checking back. And don't forget the new Christmas song, it'll stick in your head for ages!
http://genkienglish.net/whatdoyouwantforchristmas.htm
Be genki,
Richard
======================
Richard J. Graham
The Fun way to Teach!
Primary School English Games, Songs and Activities
http://www.GenkiEnglish.com
=====================




"Nothing will work unless you do." - Maya Angelou



And if you like the ideas in this newsletter, please feel free to pass it along to your friends!
---
To receive your own FREE monthly email newsletter, enter your email address below!