To receive your own FREE monthly email newsletter, enter your email address below!
---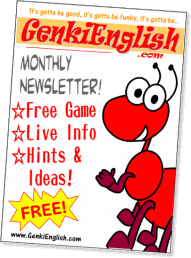 Contents:
1. "Where are the Christmas presents?" Picture Book
2. Christmas Ideas
3. And finally
Hello,
It's getting close to Christmas, so here are a few ideas for you...
1. "Where are the Christmas Presents?" Talking Picture Book
Prepositions ( under. on, in etc.), "Where are ...?", Christmas and a nice story, what more could you want in a lesson...
This month's picture book also talks, so you can get some ideas of how to stress certain words to get a bigger reaction from the kids, and to make the target English more prominent. The success of story books in your class depends hugely on the style you read them in.For younger kids "parentese" is the top shot, just pretend you are a kids' TV presenter. Then for older kids a more dramatic approach works best, asking questions and getting their ideas on what might be coming next makes it much more like an interactive video game.
For even older kids ( and even junior high) getting some of the kids to retell the story to their class ( after practising in groups), is a great confidence builder and lets the kids express their personalities. You might even go as far as having the older kids read to the younger kids.
As usual there is a printable version for teachers and an online version for your students to look at at home:
http://genkienglish.net/picturebookchristmas.htm
2. Christmas Ideas
I've put up lots of new games and ideas on the main Christmas Ideas page, but here's a super quick summary to bring some Christmas genkiness to your classes. If you don't quite get it from these descriptions, have a look at the main page:
http://genkienglish.net/Christmas.htm
* Christmas Ho Ho Ho: Chant "Christmas, Christmas, ho, ho, ho!", then everyone mimes ( and says ) one of the vocab items from CD4's "Genki Christmas" song. Anyone who has the same gesture as the teacher is out and sits down.
* Christmas Snowballs. Ask the kids a Christmassy question ( e.g. CD6's "What would you like for Christmas?"). The winner throws a wet tissue "snowball" at a snowman on the board. Each body part is worth points.
* Christmas Clothes Race: Set up some (100 yen) Santa outfits. Everyone asks "What's he wearing?". You shout out "boots" or "hat" or whatever. The kids rush to the other side of the room and put on the correct clothing.
Poisoned Presents: Just like "matching pairs" except one mini card is "poisoned" and if it turns up everyone has to rush and touch the nearest wall. You can also do it with A4 flash cards. Review through the cards, then run when the poisoned present appears.
Do the Ladders Game, but tell a Christmas story ( there's one on the site)
Or use the
Christmas Minicards
to play any of the
Minicards games.
Plus there is the
Christmas Delivery Game
and
Reindeer Race Game
. And of course the main recommendation is for CD4's "Genki Christmas" song and CD6's "What would you like for Christmas?" which are big hits.

3. And finally...
I hope that's enough for this month. If you have any materials for other holidays or festivals, then be sure to send them in to share with everyone else. There'll be more Christmas ideas on my blog throughout December.
I've just got back from doing workshops in Korea ( thank you everyone for a fantastic time), so hopefully there'll be some nice new computer ideas to work with soon.
I've also got a workshop coming up in Cologne, Germany on January 20th. If you are interested in attending, please get in touch. Or if you'd like to set up a workshop elsewhere in Europe in January then please let me know!
Thanks for all your support this year and have a very Genki Christmas!
Richard
======================
Richard J. Graham
The Genki way to Teach.
Primary School English Games, Songs and Activities
http://www.GenkiEnglish.com
=====================



"Christmas: When you exchange hellos with strangers and good buys with friends."















And if you like the ideas in this newsletter, please feel free to pass it along to your friends!
---
To receive your own FREE monthly email newsletter, enter your email address below!